Welcome to...

Up North Mittens
45431 US HWY 41
Chassell, Michigan 49916

906.482.5088
info@upNorthMittens.com




About Us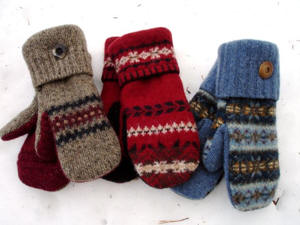 Up North Mittens is located in the beautiful Upper Peninsula of Michigan where the snow falls in feet rather than inches! We average over 150" of snow per year and wool mittens are a necessity to make it through the long winter. I have been sewing my entire life as my mom was an avid seamstress and she allowed me to sew on my grandmother's treadle sewing machine. By the time I was in Junior High, I made all of my own clothes and especially liked making stuffed animals. This started my love of recycling materials to make other new and wonderful items. All of my mittens are made from recycled buttons and wool sweaters that contain at least 70% wool, and I search high and low to find them. That's half of the fun of this job! Each pair is handmade with lots of love and my two dogs sleeping close by in their snuggle balls.
I hope you enjoy your mittens and please email me and let me
know how they work for you.